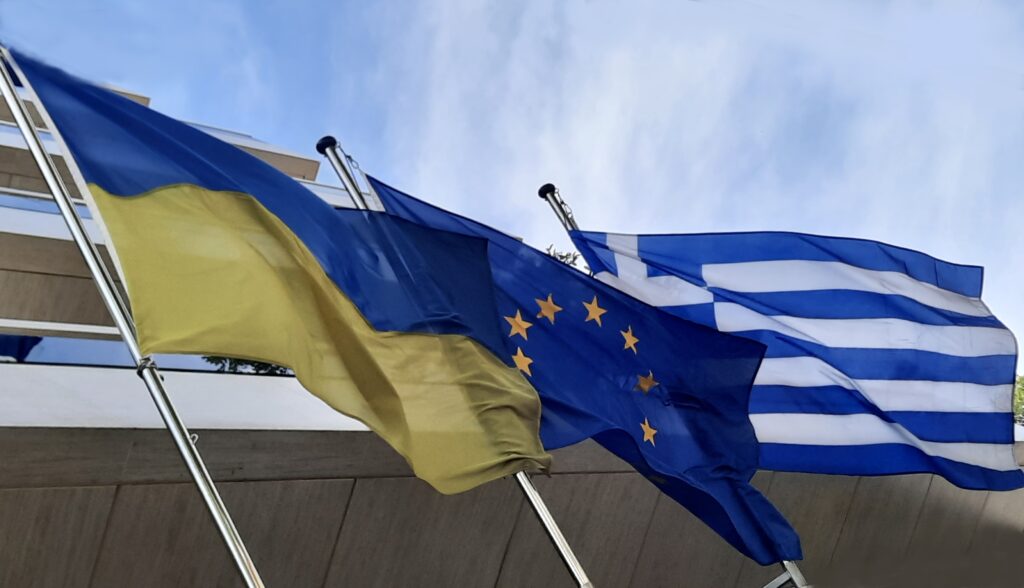 A videoconference was held on June 1, 2023, in collaboration with the Hellenic Federation of Enterprises (SEV), involving the members of the SEV Outreach Committee. The objective of this videoconference was to provide information regarding the prospects of Greek businesses in relation to the reconstruction efforts in Ukraine.
Key speakers at the videoconference included Mrs. Vassiliki Loizou, Secretary General for International Economic Affairs; Mr. Emmanuel Androulakis, Chargé d'Affaires at the Embassy of Greece in Kyiv; Mr. Dimitrios Dochtsis, Consul General of Greece in Odessa; and Mr. Panagiotis Papanastasiou, Minister Counsellor for Economic and Commercial Affairs at the Permanent Representation of Greece to the European Union. The meeting was moderated by Mr. Alexandros Diakopoulos, Director General for Development Cooperation and Humanitarian Aid.
Representatives from various sectors, including construction and building materials, metallurgy, energy, water and waste management, cosmetics/parapharmaceutical products, and food, participated in the teleconference on behalf of the Hellenic Federation of Enterprises.
During her address, Ms. Vassiliki Loizou, Secretary General for International Economic Relations, briefly highlighted the support extended by Greece to Ukraine through humanitarian aid amounting to over 7 million euros. Furthermore, Greece has provided refuge for over 100,000 Ukrainian refugees and has made contributions towards the digitization of library records in Odessa, and has provided support to UN organizations such as UNICEF and the UN Refugees Agency. Ms. Loizou emphasized that Greece has been a steadfast supporter of Ukraine from the outset, upholding the principles of respect for territorial integrity and renunciation of force or the threat of force, which constitute fundamental tenets of Greek foreign policy.
Areas of interest for Greek businesses were outlined during the teleconference as follows:
Construction and construction materials
The reconstruction of Ukraine is expected to stimulate significant growth in the construction sector, leading to increased demand for construction materials. This presents valuable opportunities for Greek companies, both in terms of project execution and investment activities.
Shipping
Greek interests currently account for a substantial proportion of the total volume of goods exported from Ukraine. Greek-affiliated fleets transport 37.24% of the overall ships departing from Ukrainian ports, corresponding to 53.11% of Ukraine's exported products.
Startups
Greece aims to foster a larger presence of Ukrainian startups. Through an initiative by the Hellenic Federation of Enterprises, eight Ukrainian companies have already received support. Ukrainian enterprises are particularly active in the fields of artificial intelligence, big data, energy, and health, requiring improved access to finance for further expansion.
Energy
Given the extensive damage to Ukraine's power grid and the need to transition away from Russian-sourced energy products, a shift to Renewable Energy Sources (RES) is expected. Greece possesses substantial expertise in harnessing solar and wind energy, which could be exploited through collaborative partnerships with Ukrainian companies.
Environment
Greek companies have the opportunity to engage in environmental activities, particularly in sectors such as recycling, water and waste treatment, irrigation, etc., possibly in the context of the participation in public projects.
By exploring these opportunities, Greek companies can contribute to Ukraine's reconstruction efforts while fostering mutually beneficial partnerships.