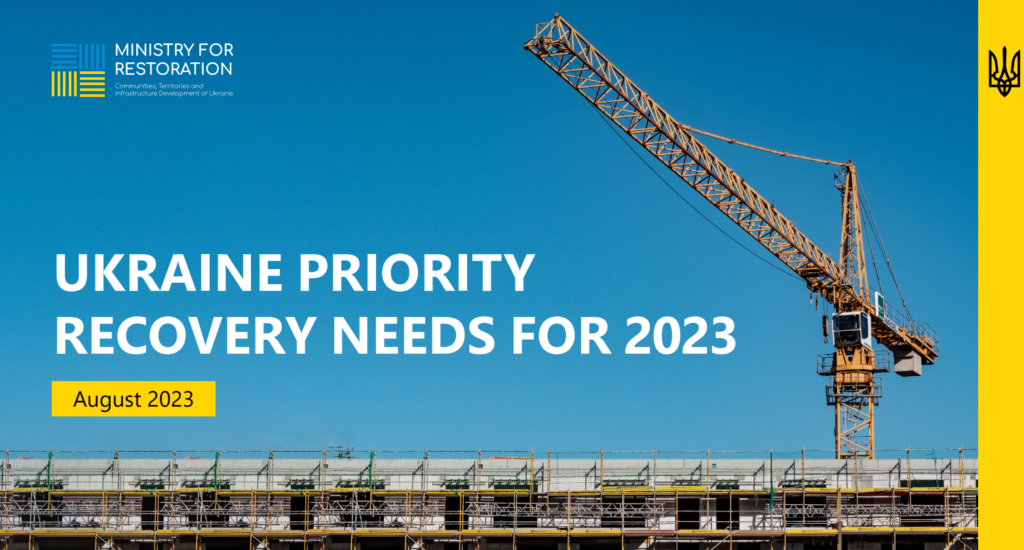 The Ministry of Restoration, Communities, Territories, and Infrastructure Development of Ukraine has recently released an updated report titled "Ukraine Priority Recovery Needs for 2023."
This report provides an overview of the priority recovery needs for Ukraine in 2023, offering insights into various sectors of focus. The report categorises priority projects into five primary sectors and each project is accompanied by a brief description, along with details about the total budget, current allocated funding, and the source of existing funding (state budget, donor financing, etc). The five sectors are:
Energy Infrastructure
This section focuses on projects aimed at revitalizing and enhancing Ukraine's energy systems through restoration and repair of power transmission and distribution lines; strengthening the protection of the power grid; integration with the EU network; restoration and decentralization of generation; district heating; and service delivery restoration.
Humanitarian Demining
This section focuses on projects dedicated to the task of humanitarian demining through provision of equipment; funding of non-governmental organizations and mine action operators; education and capacity development of relevant Ukrainian state institutions and non-governmental operators.
Private Sector
The report outlines projects designed to support Ukraine's private sector through stimulation of export-import operations; support of agricultural sector; grant support of processing industry and microbusinesses; extending access to SMEs financing under 5-7-9 Program; contributions to a trust fund trust fund for refinancing and reinsurance of war risks, financing from EBRD and IFC.
Housing
This section encompasses projects focused on housing initiatives within Ukraine through funding of the capital repair of flats and private housing; reimbursement of costs for temporary placement of IDPs.
Critical and Social Infrastructure
This section covers projects that pertain to critical and social infrastructure development, such as healthcare and education; water supply and sanitation; municipal services; telecommunications and digital infrastructure; transport infrastructure (roads, ports, railway, etc).
The full report on "Ukraine Priority Recovery Needs for 2023" is available here