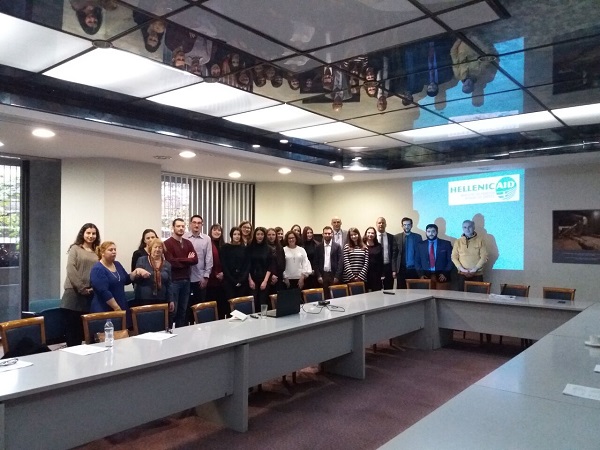 On Thursday, 13 December 2018, an information session on the international development cooperation system of Greece was held at the Ministry of Foreign Affairs, which was addressed to students from the Department of Political Science and International Relations of the University of the Peloponnese. The event was organized by YDAS-3 Directorate of Geographical Policy and Strategic Planning, with a view to informing participating students on the work, responsibilities, modalities and operations of Hellenic Aid.
Staff members of YDAS-3 Directorate presented its scope of competences, including as regards the formulation of Greek positions for various development-related meetings of the EU, the UN, DAC/OECD and other international or regional organizations. A number of important international Agreements and policies on development cooperation were highlighted, such as the Sustainable Development Goals/2030 Agenda, the Addis Ababa Action Agenda, the New European Consensus on Development and the European Fund for Sustainable Development.
Furthermore, a detailed presentation was made on the main procedural steps of the 4th Peer Review of Greece's development cooperation system: (i) submission of the Greek Memorandum (15 April 2018), (ii) DAC examiners' visit to Athens, where various meetings have been held (11-15 June 2018), (iii) concluding meeting in Paris (28 November 2018).
A presentation on the ways of collecting and processing data of Official Development Assistance (ODA) and on the distinction between multilateral and bilateral aid by the competent staff member of the Ministry's Statistical Office followed. A particular reference was made to "in-donor refugee costs", which have been increased in recent years, due to the refugee crisis.
Following the presentations, the students put forward a series of interesting questions on development cooperation.