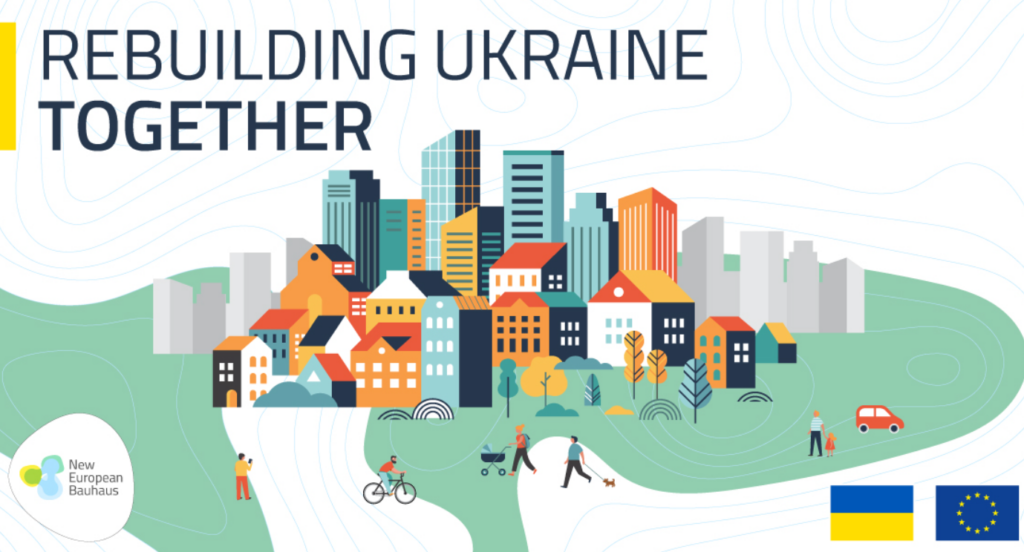 EU supports Ukraine to rebuild its cities in a high-quality, sustainable and inclusive way with the New European Bauhaus (NEB) community through the launch of a capacity-building programme.
The New European Bauhaus (NEB) is an environmental, economic, and cultural project launched by President von der Leyen in 2020. The NEB puts the focus on community building and bottom-up approaches to implement the European Green Deal by promoting beautiful, sustainable, and inclusive places, products, and services.
The NEB together with its Ukrainian partners (Covenant of Mayors East, Ro3kvit, ReThink) launched a capacity-building programme for Ukrainian municipalities to prepare the reconstruction, by providing inspiration drawn from the European experience, as well as concrete practical advice to the municipalities that will participate in the reconstruction effort. These and other NEB activities in Ukraine will be boosted through a new 'Phoenix' initiative. It will combine funding from the Horizon Europe Mission for Climate-Neutral and Smart Cities and from the LIFE Programme, with immediate mobilisation of at least €7 million for these preparatory actions.
As immediate steps, it will develop and put at the disposal of Ukrainian cities cutting-edge expertise from the NEB community in affordable and sustainable reconstruction. It will also network Ukrainian cities with like-minded ones in the EU to exchange experiences on their way to climate neutrality and more energy efficiency.
There will be a series of webinars starting on April to address the needs of Ukrainian municipalities. The first webinars will introduce possible models of cooperation between different actors, it will explore best practices for resources assessment and distribution, and funding possibilities.
Following the first round of webinars, the European Commission and Ukrainian partners will analyse further needs and develop further actions to help with the reconstruction, with the support of the entire New European Bauhaus community.